Cross-ministerial Strategic Innovation Promotion Program(SIP)
-Pioneering the Future: Japanese Science, Technology and Innovation-
Outline
Cross-ministerial Strategic Innovation Promotion Program(SIP) was established according to "Comprehensive Strategy on Science,Technology and Innovation" and "Japan Revitalization Strategy".SIP is comprised of 11 programs. PD is appointed for each program. PD leads a program strongly.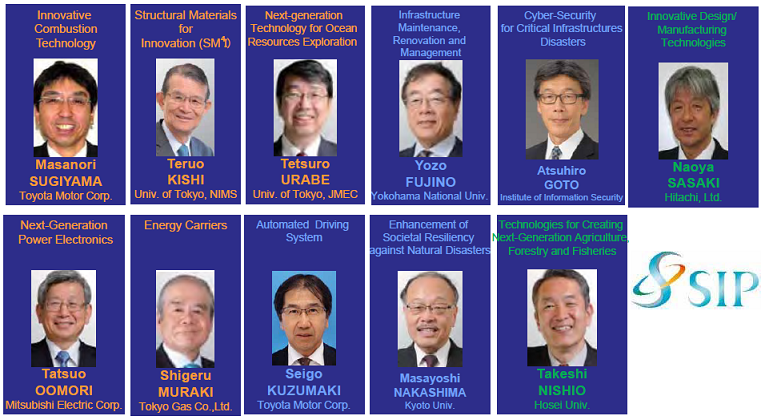 Features
The Council for Science, Technology and Innovation(CSTI) selects projects that answer critical social needs and offer competitive advantage to Japanese industry and the economy.
Cross-ministerial Initiatives.
Promote focused, end-to-end research and development, from basic research to practical application and commercialization. Utilize results in regulations, systems, special wards, government procurement, etc.
Intellectual property management system facilitating strategic corporate use of research results.
Implementation Structure
Select directors for each program (PD).
PDs selected by invitation from among top-class leaders in industry and academy.
Program directors break through ministerial silos, managing programs from a cross-ministerial perspective.
Governing Board (Members: Executive members of the Council for Science, Technology and Innovation) to provide advice/ assessment.