— (B)Innovative Manufacturing Technology —
Development of Innovative Intelligent Machine Tool based on CAM-CNC Integration Concept
Development of machine tools that can realize machine processing with ease of handling similar to 3D printers
Research institute

Kobe University, SoftCube Co., Ltd., Kitamura Machinery Co., LTD.
Background
With the existing method of directing machining in the processing program (NC program), it is not possible to realize intelligence of the machine tool. Therefore, on this theme we are developing innovative intelligent technology of machine tools that converts from machining by NC program to a method that calculates the tool position and tool posture during machining and sequentially directs it(Figure 1).
This makes it unnecessary for a lot of labor required to create NC program and it will be able to machining with ease as with 3D printers. In addition, it is possible to reduce production lead time and realize an autonomous decentralized factory.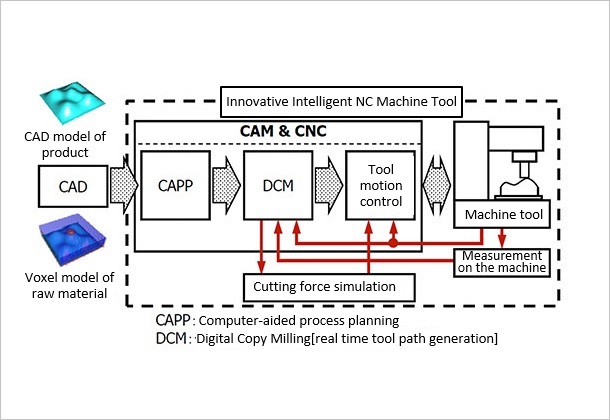 Goals
To prototype an innovative intelligent NC machine tool unprecedented in the world capable of machining from three dimensional CAD models of materials and products without creating an NC program.
Implement adaptive control of cutting force to realize improvement in machining efficiency and avoidance of machining troubles.
Improve machining accuracy by correction machining based on machine tool measurement.
Implementation contents
First prototype of intelligent machine tool that does not require NC program, exhibited at European machine tool trade fair EMO show

(Figure 2,3)

Study of tool motion control and cutting force simulation using voxel model of work material
Study on adaptive control based on cutting force simulation
Integration of digital copying machining system and process design system
Development of pilot users, improvement of prototype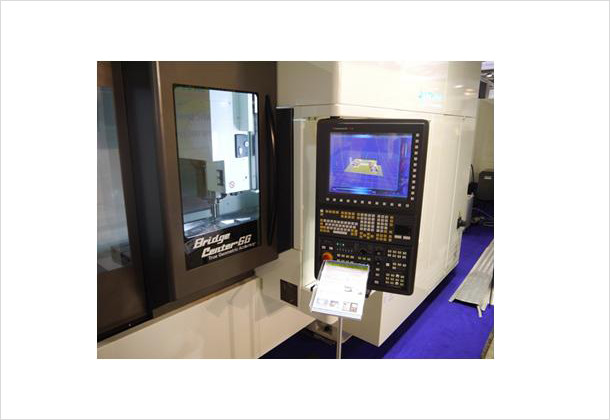 Intelligent machine tool prototype to realize 3D printer-like operation