— (B)Innovative Manufacturing Technology —
Nano-Assembly Technique Development towards Fabrication of Advanced Materials for Strategic and Futuristic Industrial Applications
Development of nano-assembly technique that promotes innovation of novel / smart materials
Research institute

Toyohashi University of Technology, Gifu Prefectural Ceramics Research Institute
Background
Towards the realization of precision manufacturing, it is indispensable to break through the limitation in 'manufacturing' that utilizes powder as a raw material. By using conventional mixing method, it is always a difficult challenge to obtain a homogenous mixture that consists of a base material with the desired additives(Left picture of Figure 1) for new material fabrication (Figure 1).
Therefore, in this theme, a material manufacturing technology that allows structural control at nanoscale level using additives is being developed. Using the aforementioned technology, a homogenous mixture of desired materials could be achieved using the same amount of additives which could lead to properties improvement(Right picture of Figure 1).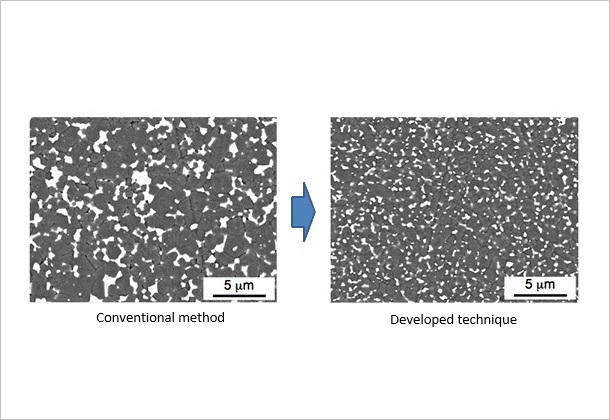 Goals
The main objectives of this theme are the development and establishment of a system that can supply a final product of novel composite materials with desired characteristics in rapid fashion at low-cost. The indispensable key technology for this breakthrough is "nano-assembly technique". In this theme, various nanocomposite particles' design (Figure 2) as well as mass production supply system are established.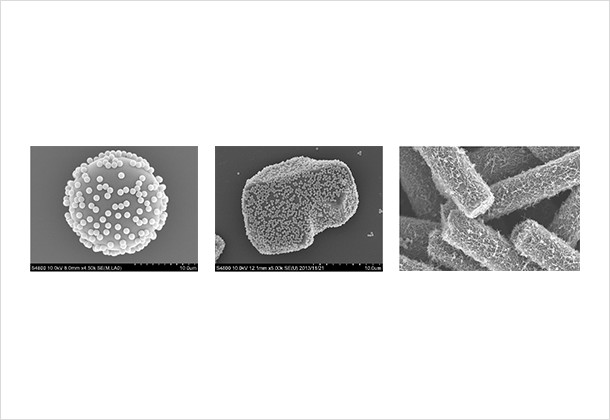 Implementation contents
A technology for mass production of composite particles is targeted. Specifically, the production capacity is increased from 1 kg/h to 10 kg/h.
Establishment of microstructural design of materials through integration of composite particles is targeted. The aforementioned development would enable the fabrication of high-performance materials such as "transparent heat shielding material", "transparent conductive material" and "high heat conductive material" which have high potential to be utilized for 3D printing technology as well as raw powder materials

(Figure 3)

.