— (B)Innovative Manufacturing Technology —
Development of Easy, Reliable, and Intelligent High-Precision Machining System for Complexly Shaped Part Using Milling-Turning Machine Tool with Multi-Turrets
Realization of multi-axis machine tool (multi-task machine) which is easy for everyone to use
Research institute

Keio University, Nagoya University, Tokyo Institute of Technology, Nakamura-Tome Precision Industry Co., Ltd., NIKON CORPORATION, PMAC JAPAN CO. LTD.
Background
Currently, at the site of manufacturing, high efficiency and high precision machining of complicated shaped parts are required due to weight reduction of parts, reduction of the number of parts and complication of part shapes. In order to deal with this, the introduction of multi-axis machine tools (multi-task machine) is proceeding.
However, highly skilled skill is required for operation, problems of interference prevention and process design are difficult, intelligence and optimum processing are difficult and they are still in the development stage(Figure 1).
Therefore, in this theme, we are working to realize automatic interference avoidance, sensorless intelligence, optimization control technology of multi-axis machine tool for the first time in the world.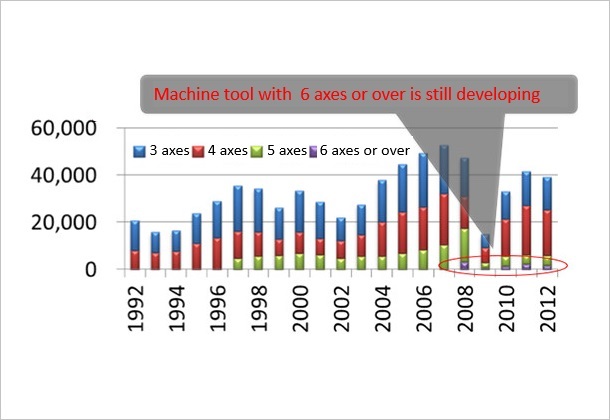 Goals
Technical goal

FY 2014-2015: Development of element technology (interference collision avoidance, process design, intelligence, optimal control)

FY 2016 - 2017: Development and verification of a simple high precision and high efficiency processing system
Outcome(Ripple Effect)

Everyone can easily use multi-task machine. Level up of machining technology
Expansion of potential users of multi-task machines
Complex shapes that could not be processed conventionally can be made, and delight design can be realized
Implementation contents
Development of automatic interference collision avoidance system

Development of measurement camera for cutting tools and workpieces(Figure 2)
Development of CAD data construction technology based on measurement data

(Figure 2)Play proto measurement camera

Development of automatic process design system

Development of process design technology based on processing features

Development of intelligent and optimal control system

(Figure 3)

Development of sensorless cutting resistance estimation technique
Development of process identifying technique based on processing power information
Construction of development guidelines for optimum mechanism / structure design