— (A)Super-Upstream Delight Design —
Development of Innovative Delight Design Platform
We will develop design tools that enable attractive products beyond performance
Research institute

The University of Tokyo, Zuken Inc., Lattice Technology Co.,Ltd., TADANO LTD.
Background
In the future product manufacturing, not only "obvious quality" expected by the user, such as performance, but also "attractive quality" beyond that are being required(Figure 1).
However, the method of designing such products (quality) is often dependent on individuals (experts), and it is difficult for ordinary designers to try.
Therefore, on this theme we are developing a support tool that enables general designers to design products with "attractive quality" .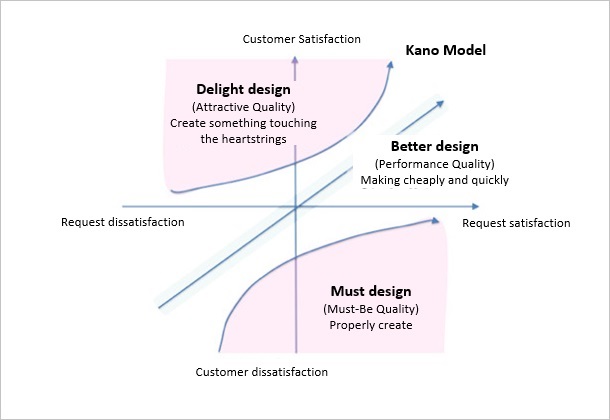 Delight Design Platform Concept Movie
Goals
As a key technology for constructing a platform for delight design, we set "Kansei database", "Kansei modeling", "Kansei integration technologies", "Kansei reverse technology" and develop prototypes of these tools(Figure 2).
Next, we will verify this prototype technology for concrete product cases, and we will also promote commercialization of parts (software, libraries, guidelines) that can be put to practical use and commercialization as appropriate.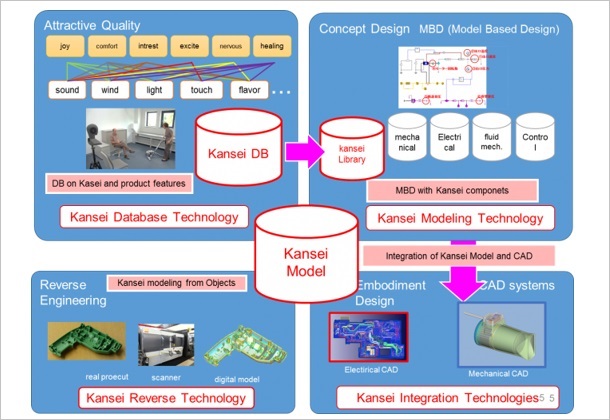 Implementation contents
Kansei database

It expresses the relationship between user's sensitivity and product attributes. We are developing specifications, construction guidelines, prototypes, etc.(Figure 3).

Kansei modeling

We develop the prototype of the model (Kansei model) which incorporates the function / structure of the product, along with the Kansei database, on the MBD (Model Based Deign) and develops a method of supporting kansei design using it.

Kansei integration

We will develop a function that cooperates with Kansei model and CAD of electrical system and mechanical system. Specifically, we are developing an interface that links MBD and electrical and mechanical CAD systems.

Kansei reverse  

By scanning or sensing existing products and users, we will develop technology to build its detailed model and Kansei model.