— (A)Super-Upstream Delight Design —
Design Management for Cross-disciplinary Team (DMCT)
R & D based on design thinking under the trinity system which consist of of R & D team, provisional User and businessization interested companies. By developing the design brain mapping method, it contributes to improvement of concept designing ability of manufacturing companies.
Research institute

National Institute of Advanced Industrial Science and Technology (AIST), The University of Tokyo, KONGO CO., LTD., Komatsu Ltd.,Ricoh Company, Ltd.
Background
In currently manufacturing, it can not be said that two-way communication between customers, residents, upstream company, service companies and downstream companies is sufficiently done. Even within the company of downstream companies, there is also a challenge in the collaboration between chief designers, designers in charge, general engineer, division engineer, and installation, maintenance, and service departments not directly related to design.
Therefore, under this theme, we are working on "construction of functional design management environment" within downstream company and "construction of ultra-upstream delight design environment" which make collaboration between inside and and outside companies.(Figure 1)。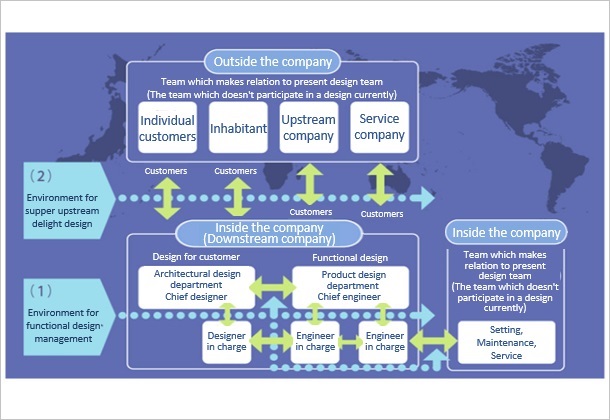 Goals
We try to solve the problem of local optimization of design process due to stiffening of vertically divided organization. We propose a mechanism that improves design process efficiency even if the number of participating departments, such as customer contact department and manufacturing department, which has not been involved in conception design, has increased.
Construction of environment for functional design management

We develop relationship-design and discussion-sharing software Design Brain Mapping(Figure 2) for visualization and improvement as concern with concept design collaborative process and are building methods for better collaboration.

Construction of environment for supper upstream delight design

We are developing a brainstorming system as a mechanism for improving the quality and efficiency of conference design conference that internal and external multi stakeholders participate to visualize and improve the concept design review meeting.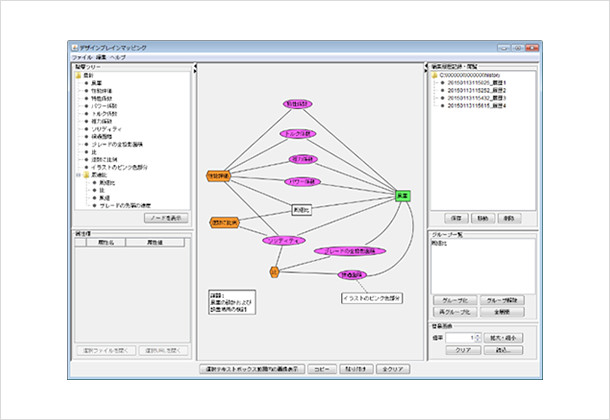 Implementation contents
Construction of environment for functional design management

From FY 2016 to FY 2018, we will conduct verification by linking three or more organizations at more than 5 bases.

Construction of environment for supper upstream delight design

We will conduct a basic examination to commercialize the brainstorming system.
We will evaluate about efficiency improvement and quality improvement of pre-post treatment of brainstorming from FY 2016 to FY 2018.