— (B)Innovative Manufacturing Technology —
Development of supermetallization by processing of metallic raw materials
Transfer skills of experts to the next generation. Tackle establishment of global top metal surface treatment technology
Research institute

Nagaoka University of Technology, Nagaoka Densi, Johetsu Industry Co., Ltd., NAKATSUYAMA NETSUSHORI.co., ltd., NIHON MEKKI INDUSTRY CO., LTD., Konishi Mekki, EYETEC CO., LTD.
Background
In Japan, we have the world's top level metal processing and finishing technology rooted in region. On the other hand, the decline of regional vitality is remarkable, and the skill experience of "tacit knowledge", "technique", "craftsmanship" which supported those processing and finishing technologies is hard to be passed down. As a result, the superiority of manufacturing, which is regarded as the strength of "professional manufacturers", is decreasing.
Goals
In this theme, we aim to raise the material and processing technology possessed by such regional professional manufacturers to manufacturing technology adding new value(Figure 1).
We will put innovative metal surface treatment technology (high wearing resistance, high corrosion resistance, high sliding) that can not be imitated by emerging industrial countries by adding new value to metallic raw materials, and aim to acquire global top technology.
This will revitalize the local industry and will nurture employment and living worth(Figure 2).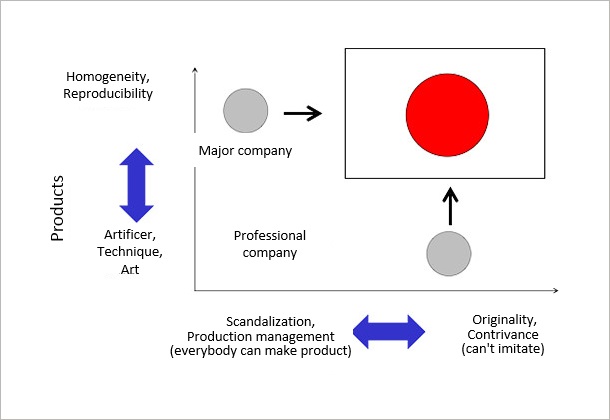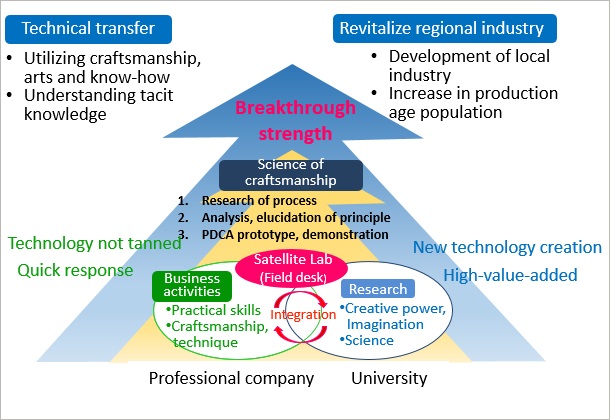 Implementation contents
As a content of concrete technical development, we are advancing research and development of the following items through quantitative scientific examination of field devices.
High wearing resistance by nitrosulphurizing
High corrosion resistance by a heat treatment in nitrogen atomosphere
High sliding performance by nano-diamond composite plating
World top level metal processing rooted in the region