— (B)Innovative Manufacturing Technology —
Development of advanced glass processing technologies
Establishment of new glass processing technology
-Development of advanced processing technologies which enable us produce glass products with desired shape and size-
Research institute

Kyoto University, National Institute of Advanced Industrial Science and Technology (AIST), Nippon Electric Glass Co., Ltd., ISHIZUKA GLASS CO., LTD., Kogakuin University, Isuzu Glass Ltd.
Background
Glass is one of key materials for devices to attain desired performance, shape and size, due to its excellent durability and optical properties. Hard processability of glass, however, makes it difficult to meet the customers' requirement for glass components, and therefore, the application of glass is limited in end-products.
The aim of this theme is to solve this problem, to maintain competiveness for Japanese glass manufactures which have world leading technologies and command large shares of global markets(Figure 1).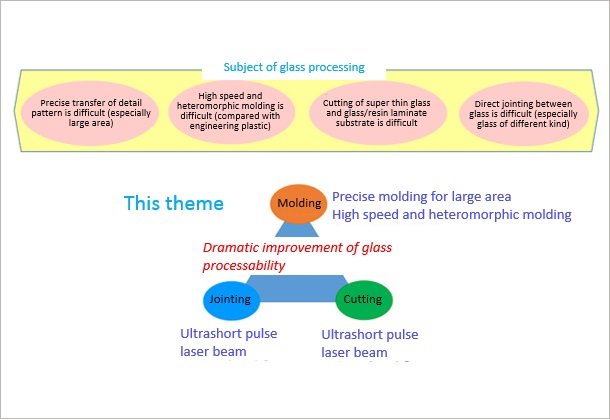 Goals
We are aiming to develop innovative production technology that drastically improves the speed, accuracy and area of glass processing by elucidating the complicated phenomena occurring in glass during processing. Specifically, the development of molding, cutting and bonding technologies is conducted(Figure 2).
By advancing the precision molding technology, we develop the large area precision molding technology.
We develop the injection molding technology for glasses to realize the rapid production of complex shaped glass products.
We develop the fast and precise cutting and bonding technology at practical level using ultra-short pulse laser irradiation.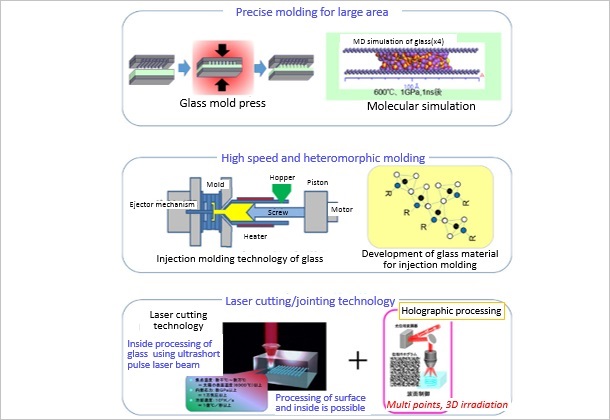 Implementation contents
Development of large area precision molding technology

We will develop precision molding technology with large area, based on the basic research on viscoelasticity of glasses.

Development of rapid molding technology for complicated shapes

We will develop inorganic glass and organic-inorganic hybrid glass materials for injection molding and develop injection molding technology for hybrid glass.

Development of cutting and bonding technology

We will develop the fast and precise cutting and bonding technology by combining the ultra-short pulse laser irradiation and the multipoint simultaneous irradiation using holographic technology, based on fundamental research on laser-material interactions(Figure 3).

(Figure 3)Examples of practical application of laser cutting technology