— (A&B)Super-Upstream Delight Design and Innovative Manufacturing Technology —
Manufacturing Initiative through AM Innovation
Aim for establishment of a design and manufacturing method that maximizes the merits of 3D printers
Research institute

The University of Tokyo, Tokyo Metropolitan Industrial Technology Research Institute (TIRI), Aspect, Inc., Manufacturing Science and Technology Center, Elysium Co. Ltd.
Background
"AM(Additive Manufacturing ) Technology", widely known as 3D printing, has advantages, such as a short lead time and ability of making a free form. However, there are still several challenges as follows:
Shortage of product ability

Concrete application cannot be found easily

Shortage of design ability

There is no design tool using the characteristics of AM technology

Shortage of manufacturing ability

Economic, productivity and material properties are not good
This project solves these problems and is working on the creation of new manufacturing using AM technology(Figure 1).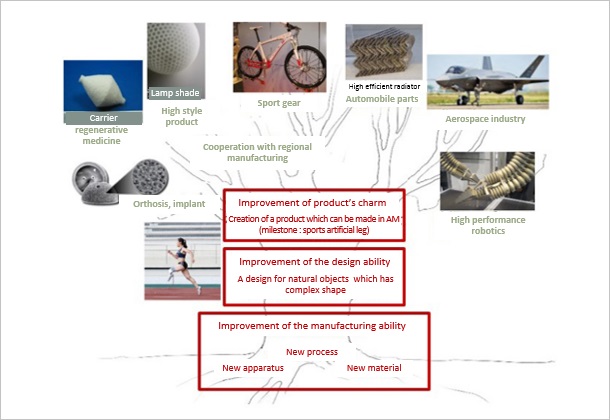 Goals
Improvement of manufacturing ability

We are aiming to develop a manufacturing process for high performance plastic having high-strength and high-resistance which can be used for high value-added products such as aerospace, space, medical equipment and sports equipment.

Improvement of product ability

We aim to propose high function and high designed products and design methods to fit individual bodies.

Improvement of design ability

We aim to develop a data creation tool which facilitates design of products out of 3D scan data.(Figure 2)。

Penetration into society

We aim to disseminate technology and support regional manufacturing.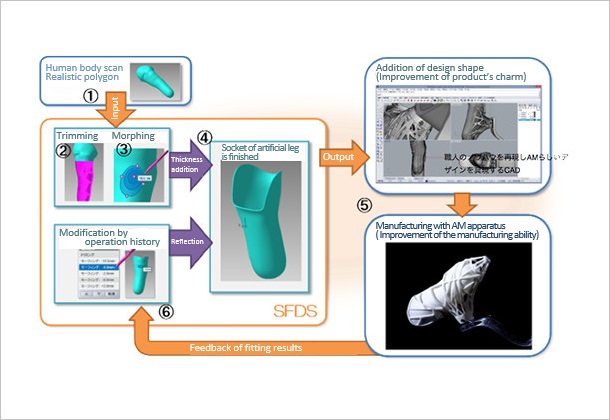 Implementation contents
Improvement of manufacturing ability

Research on laser sintering process (Figure 3)
Development of equipment to realize above process
Search for optimal material properties by cooperation with resin manufacturer

Improvement of product ability

Design and development of high function and high designed prosthesis for sports
Improvement of high functionality fitting to individual by cooperation with prosthetic orthotic
Improvement of functionality and pursuit of aesthetics through cooperation with athletes

Improvement of design ability

To realize the aforementioned prostheses
- Extract feature data of scanned data
- Establish operability that can easily realize know-how of prosthetists

Penetration into society

Holding seminars, discussing development of new processes, etc.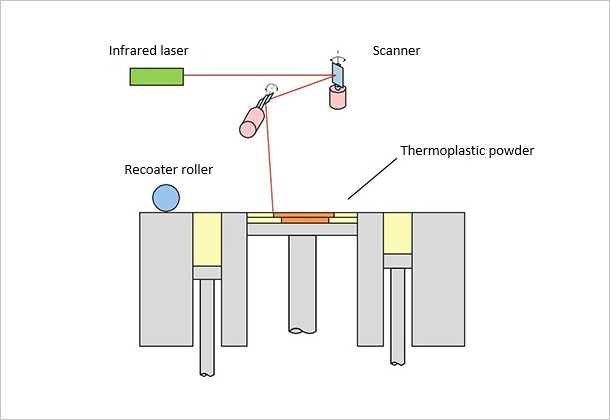 Prosthetic leg for Athletics manufactured by AM "Rami"
Prosthetic leg for Athletics manufactured by AM "Rami" (Ver2016)