— (A&B)Super-Upstream Delight Design and Innovative Manufacturing Technology —
Innovative Design/Manufacturing Methodology of Tailor-made Rubber Products and Socio-Economic Value Co-Creation with Reactive 3D printer
Strengthening the international competitiveness of the shoes industry in Kobe by creating delightful shoes to anticipate the times
Research institute

Kobe University, Hyogo Prefectural Institute of Technology, National Institute of Advanced Industrial Science and Technology (AIST), Kobe Material Testing Laboratory Co., Ltd., Bando Chemical Industries, Ltd., Sumitomo Rubber Industries, Ltd., ASICS Corporation, SHIBATA INDUSTRIAL CO.,LTD., TENMA FACTICE MFG.CO.,LTD.
Background
The life that keeps wearing shoes for a long time is generalized, and "comfortable with shoes" and "how to obtain fitted shoes" are important concerns for customer.
In this theme, along with these social needs, we are working on establishing an innovation in shoes making in order to further restore the shoes industry in Kobe City(the birthplace of rubber industry in our country and it was the largest domestic base of chemical shoes until the Great Hanshin-Awaji Earthquake) and strengthen international competitiveness.
Goals
R & D of interactive design method and agile production system

By the end of FY2016, we will work on the development of analytical and design methods from the first loop (lead user) to the second loop (semi-lead user) by the agile production system. It is also planned to achieve the initial goal of the system's personal conformity coverage ratio.
By the end of FY2018, we will work on the establishment of design technology in the third loop (general user) and the creation of the Delightness index.

R & D of materials and 3D printers

(Figure 1)

By the end of FY 2016, we will work on research of 3D printer and create first prototype machine.
By the end of FY 2018, we will create second prototype machine.In addition, we will work on material development for polyurethane rubber (outer sole), UV crosslinking synthetic rubber (midsole), diene rubber (inner sole) as well as achieving initial production time objectives.

Market development

By the end of FY 2016, we plan to conduct a market survey for deploying other applications and prototype for semi-lead users.
By the end of FY 2018, we will build a value co-creation platform and explore the possibility of developing other uses.We also plan to manufacture products for semi-lead users, and to manufacture functional parts of tailor-made products for general users.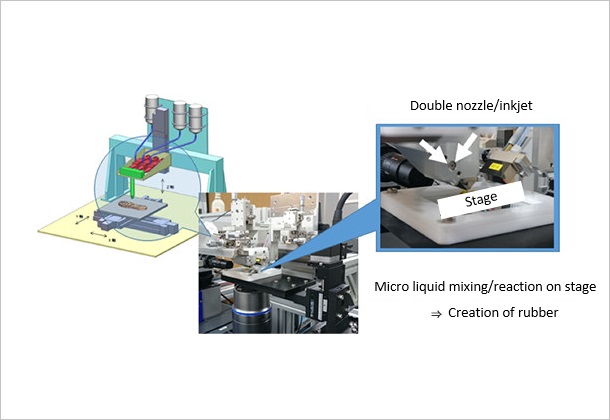 Implementation contents
R & D and living innovation of design production system aiming at co-creation of value for rubber products (first target is shoes)

We will apply the result of system development in the first loop (lead user) to the second loop (semi-lead user) and furthermore follow analysis → design → operation cycle repeatably to achieve change in lifestyle.
In the final third loop (general user), while reflecting these results in the design of shoes incorporating super delight which can not be grasped by conventional market analysis, and IoT-based Smart Factory will be built(Figure 2).
Users and producers will also set up a new value co-creation site with together (value co-creation platform).

R & D of designing production technology of tailor-made rubber products with reactive 3D printers

We will develop 3D printer molding technology using micro reaction field of two liquid mixing ink jet nozzle and rubber composition containing light curing agent for targeting integral molding of shoes sole. We will also prototype an embedded organic sensor for shoes sole.
We will aim to develop the world's first rubber material to realize it and also the world's first agile 3D printer and prototype machine.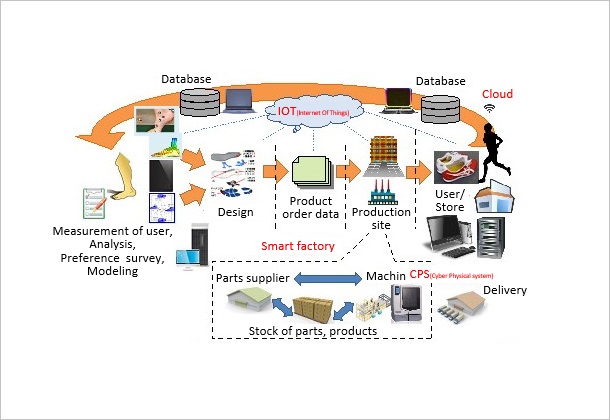 Outputs
Tools/Technologies
Utilization hub of tools and technologies  
The world's first Vulcanized rubber 3D Printer [Japanese]